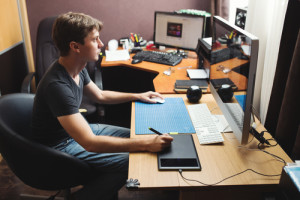 According to the Freelancers Union, freelancing is the new employment norm, well almost. A recent landmark survey conducted by the independent research firm Edelman Berland and commissioned by Freelancers Union and Elance-oDesk, found that more than 53 million Americans are involved in some form of freelance work. As the report notes, this is roughly 34 percent of the American workforce. What's more, 80 percent of non-freelance workers are reportedly willing to work outside their primary jobs preforming such services for additional income.
Freelance work is rapidly spreading throughout the world to become one of the fastest growing employment sectors. According to the survey, individuals who provide freelance business services contribute an estimated $715 billion in earnings to the American economy. The survey notes that 32 percent of freelance workers experienced an increase in demand for their services over the past year, while only 15 percent reported a decrease.
Among the top reasons that freelance work continues to grow in popularity is the potential to earn extra income and the ability to have a flexible schedule. While finding work and income stability are among the top barriers to doing more or solely freelancing work, according to the survey. Yet still about 36 percent of freelance workers with a primary job have considered quitting their full-time employment to work completely independently. The vast majority of survey respondents believe that the potential for growth in freelance work is vast, and that there will continue to be an increased demand for these serves. Economists and staffing industry experts tend to agree that the demand for "as-needed" employment and independent work is on the rise.
As more and more workers turn to freelancing and organization increasingly seek these project based employees, the staffing industry is faced with the challenges of working with these non-traditional laborers. Their needs are far different from the traditional full-time employee, and staffing agencies play a significant role in managing those needs, along with the countless nuances that accompany working with freelance individuals. As freelancing continues to grow in popularity, it becomes even more vital that staffing firms are prepared to handle these workers.
World Wide Specialty Programs is dedicated to developing an intimate understanding of the staffing industry and the risks firms face through the course of their operation. We develop business insurance solutions that address the ever evolving needs of staffing firms to help businesses keep up with the latest employment trends, legislation and practice. From protecting against liability disputes to on the job injuries we offer the most comprehensive and innovative Staffing Industry Insurance available to ensure the security of any operation. To find out how we help solve your staffing insurance needs, contact us today at (877) 256-0468.