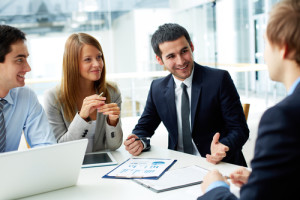 In recent Staffing Industry News, a study has shown the relationship between workplace performance and relation to the size of the team. The survey was conducted online for 3 weeks and was completed by over 100 U.S. business owners including senior executives, directors, and C-level management. Overall, smaller teams were proven to perform better than midsize or large firms.
According to the ThinkWise 2015 Impact of Team Performance Survey report, six out of ten senior executives report their own teams are underperforming and team size may to be blame. What's more, 52 percent of the respondents claim that their small organizations are performing to their potential, while only 35 percent of midsize companies and 39 percent of large organizations agree.
The highest achieving performers are companies with fewer than 10 employees. While only 50 percent of these small organizations believe their workers are surpassing performance potential, it far exceeds the responses of midsize and larger companies. Company respondents with 10-50 employees reported 36 percent of employees demonstrating full performance potential while larger companies, those with more than 50 employees, only reported that 14 percent of their workers are performing to their potential.
VP of strategy and consulting for ThinkWise Steve Griffin stated "When organizational leadership truly embraces the makeup and function of highly effective teams, the impact on the business is phenomenal. Efficiency and profitability skyrocket, and their performance causes ripple effects throughout every area of the organization, including culture and retention."
In addition, teams who are self-selected perform better, according to the survey. 63 percent identified this as the highest performance indicator. However, it is uncommon that this strategy is followed by executives.
At World Wide Specialty Programs, we aim to provide your firms with the latest staffing industry news. In addition, we provide expertly crafted coverage to protect your firms against the broad scope of risks that are unique to the industry. For more information on our products and services, we invite you to give us a call today at (877) 256-0468.