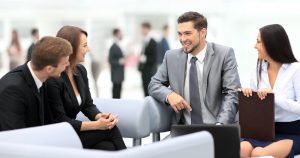 Every company is looking for top talent that will go above and beyond in their work. With the right employees, your company can run to be the most successful. However, looking for the perfect candidate can be time-consuming work. Hiring a recruiting firm with the right expertises to give you the best candidates might just be the way to go. Make sure you stay protected with Direct Hire/Personnel Consultants Professional Liability (E&O).
According to an article in Forbes, hiring the right employees can be difficult and time-consuming. That's why you should consider a staffing agency to help.
First things first, you need to know when hiring a recruiting service is the way to go. Consider these points and then decide.
You don't have enough time to recruit the open position.

You have had trouble filling the job for some time now.

You have seen high turnover rates for the position and seek expert help.

You have posted the position and have not received the response they desire.

You do not have internal HR and would rather outsource hiring than do it internally.
If you find yourself having any of these thoughts then consider a recruiting agency. The next step to consider is the typical fees involved in hiring an agency. There are two types: retained and contingency fee structures.
A retained fee structure is when your firm pays a sum, upfront that guarantees recruiters for their services. A contingency fee structure is entirely performance based, which means you don't pay a recruit until they successfully recruit an employee for you. Most companies chose the latter option.
Do your research before hiring a recruiting agency, but just know that it'll make it easier for your company to be guaranteed a perfect candidate.
About World Wide
At World Wide Speciality Programs, we understand that wrongful acts can occur while performing direct hire or permanent placement service. Our policy provides coverage for the insured and their staff. We strive to protect the insured from claims brought on by both the hiring and placed employee. For more information on how we can assess your insurance needs, call us today at 877.256.